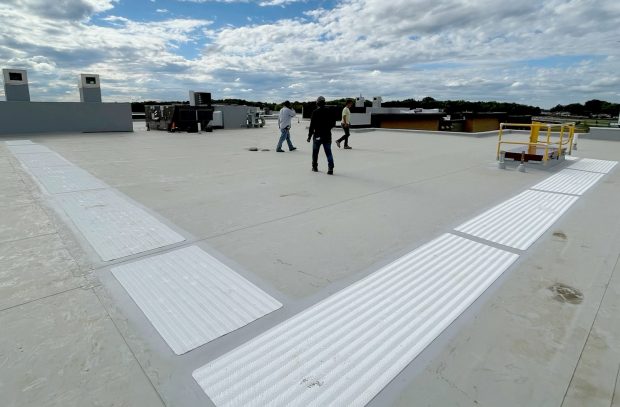 Thermoplastic Polyolefin (TPO) membranes are one of the most popular commercial roofing materials. These single ply membranes are created by fusing fabric and rubber with state-of the art technology and are considered an environmentally safe, "green" product. TPO roofing membranes are typically installed using mechanical fasteners and plates placed along the edge of the sheet, then fastened through the membrane into the roof decking. Adjoining sheets of TPO membrane are overlapped, covering the fasteners and plates, and joined together with a hot air weld. This type of system is highly resistant to wind and other weather factors. If you'd like to know more about TPO roofing for your Dallas, TX property, then give our team a call at 214-295-6213.
Advantages of TPO Membranes
Excellent elongation and flexibility
Lightweight; great for use as a recover system
Because no aggregate surfacing is necessary, maintenance and repairs are easily accomplished
Available in various colors
Available in .045 mil, .060 mil, .090 mil and .120 mil to meet every need
Long term warranties available
Fast track system for time sensitive projects
System Design Considerations
Roof must have positive drainage
Roof should not be expected to be used as a traffic surface
Buildings venting any type of contaminate onto the roof surface should incorporate grease traps or recovery systems
Dial 214-295-6213 to connect with Roofing Restoration about TPO roofing in Dallas, TX today!
View All Services