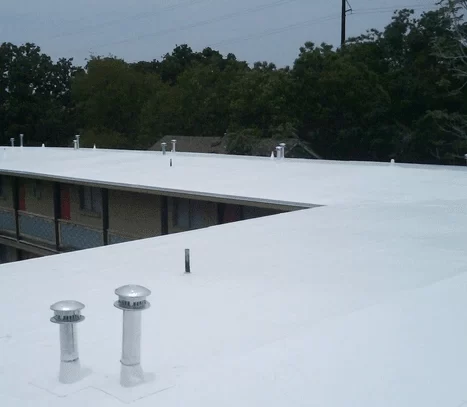 Modified Poly-Vinyl Chloride (PVC) membranes has been around since the mid-1970's. Modified PVC systems share many characteristics with TPO systems in that they are easy to install, durable, and energy efficient. Modified PVC roofing membrane can be installed using mechanical fasteners and plates, fully adhered in bonding adhesive, or ballasted. In all applications, Modified PVC sheets are overlapped with the seams and heat welded, fusing the sheets together. This type of system is highly resistant to wind and other weather factors. Because of the make-up of Modified PVC, it also is able to withstand rain and fire. Ready for a PVC roof for your Dallas, TX property? Then give Roofing Restoration a call at 214-295-6213 today!
Advantages of Modified PVC Membranes
Heat welding provides exceptional seam strength
Lightweight; great for use as a recover system
Resists normal structural movement without splitting or cracking
Custom colors available
Available in .045 mil, .060 mil, .090 mil and .120 mil to meet every need
Long term warranties available
Fast track system for time sensitive projects
System Design Considerations
Roof must have positive drainage
Roof should not be expected to be used as a traffic surface
Buildings venting any type of contaminate onto the roof surface should incorporate grease traps or recovery systems
Dial 214-295-6213 to connect with our team for more about a PVC roof for your Dallas, TX property.
View All Services