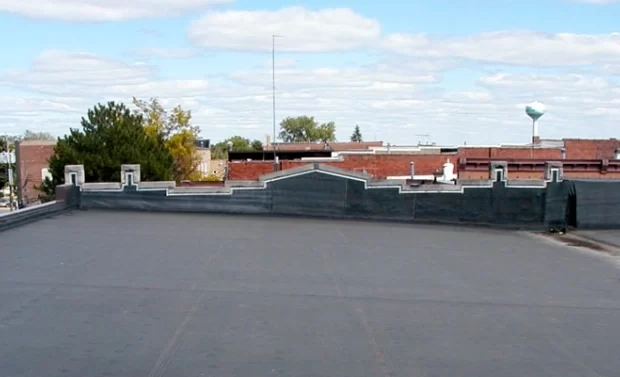 EPDM (Ethylene Propylene Diene Monomer) synthetic rubber roof membranes have been used on roofs in the United States since 1960 and are one of the most common types of low-slope roofing materials. They are relatively inexpensive, simple to install, and fairly clean with which to work compared to conventional built-up roofs. There are fewer odors and fumes that accompany built-up roofs. This appeals to many property owners and managers. The properties of EPDM – resilience, tensile strength, elongation, as well as resistance to ozone, ultraviolet light and ponding water make this membrane an excellent roofing material. Want to learn more? Give the Roofing Restoration team a call at 214-295-6213 for EPDM roofing in Dallas, TX now.
Advantages of EPDM Roofs
Installs easily with large sheets, reducing a tremendous amount of labor compared to other roofing systems
Lightweight; great for use as a recovery system
Because no aggregate surfacing is necessary, maintenance and repairs are easily accomplished
Available in .045 mil, .060 mil, and .090 mil to meet every need
Traffic Resistant
Fast track system for time sensitive projects
EPDM System Design Considerations
Roof must have positive drainage
Roof should not be expected to be used as a traffic surface
Buildings venting any type of contaminate onto the roof surface should incorporate grease traps or recovery systems
Get more information about EPDM roofing for your Dallas, TX property, give us a call at 214-295-6213.
View All Services