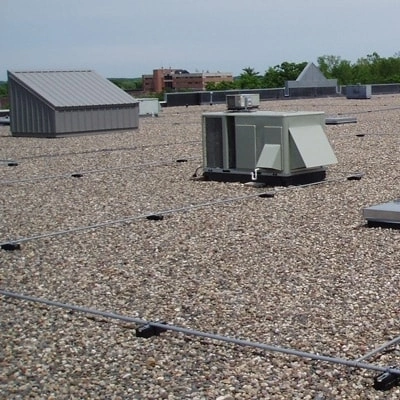 Built Up Roofing (BUR) Membranes are typically found on flat or nearly flat roofed buildings. These Membranes are referred to as built-up due to a process of overlapping several layers of roofing felts with hot or cold adhesives. BUR felts can be made of organic, fiberglass or polyester. The hot adhesives have three main types: asphalt, modified asphalt or coal tar pitch. The cold adhesives are either asphalt or coal tar pitch based. A layer of gravel is typically the final step, protecting the roof from ultraviolet degradation and providing weather resistance. For more about built up roofing in Dallas, TX, look no further than Roofing Restoration. Dial 214-295-6213 to schedule an appointment today.
Advantages of BUR Membranes
Long track record that dates back to the early twentieth century
Can be cold or hot applied
High tensile strength reduces the possibility of roof splits
Excellent fire resistance
Excellent puncture and tear resistance
Multiple ply systems
Advantages of Coal Tar Pitch BUR Membranes
System can tolerate ponding water without risking damage to the membrane
Low melting point of the coal tar bitumen easily reseals small punctures giving coal tar pitch membranes a self-healing characteristic
System stays flexible for years after installation
Longest life system on the market
Advantages of Asphalt Based BUR Membranes
Low fuming characteristics of asphalt BUR is less objectionable to building occupants
High melting point of asphalt makes for a stable bitumen that will not run into the build or down the outside walls in hotter climates
Can be used on buildings with slopes over ¼" per foot without experiencing slippage of roofing felts
Use 214-295-6213 to reach out to the Roofing Restoration team, for more information about built up roofing in Dallas, TX. We are ready to speak with you.
View All Services